Membership Plans
---
Overview
We offer short-term (Gateway, 1 month), mid-term (Tinker, 4 month), and long-term (Maker, 1 year) membership plans which are further partitioned into different rooms (Studio, Wood Lab, and Metal Lab) and machine suites. 
Please review the membership plan summary below to find the plan that best suits you.  
---
About the Joining Process
---
Using the Member Portal
Join - Learn - Book - Fabricate!  
Fab Lab Tulsa requires its members to participate in prerequisite instructional classes prior to using lab machinery.  To join the lab, follow the steps below:
Navigate to Fab Lab Tulsa's Member Portal hosted by MindBody
Create a temporary (no cost or obligation) online account with an email address and password 
View our online Video On Demand (VOD) library of instructional videos or sit in on one of our onsite classes (Classes Tab) at Hardesty Hub for Makers.    
After you've taken your class, purchase your membership contract online through the same Member Portal webpage within 7 days
As a lab member you'll have the ability to book and manage online appointments for those machines covered in your class
Visit the Fab Lab Tulsa's Hardesty Hub for Makers at your appointment day/time and check in at our front desk
Start your project!  Fab Lab Tulsa staff are available to answer additional questions.  
Take additional machine-specific classes (video or in-person) to access all the machine workstations relevant to your membership plan
Fab Lab Tulsa's Self-Service Member Portal is the Tool Client's will use to routinely access the Hardesty Hub for Makers lab space.  The Self-Service Member Portal Permits Clients to Perform the Following Functions :
Create an Account
Purchase Member Contract(s)
View Instructional Videos
Book Seats in Pre-Requisite Onsite Instructional Classes
Book and Cancel Appointments on Machine Workstations
---
Membership Plans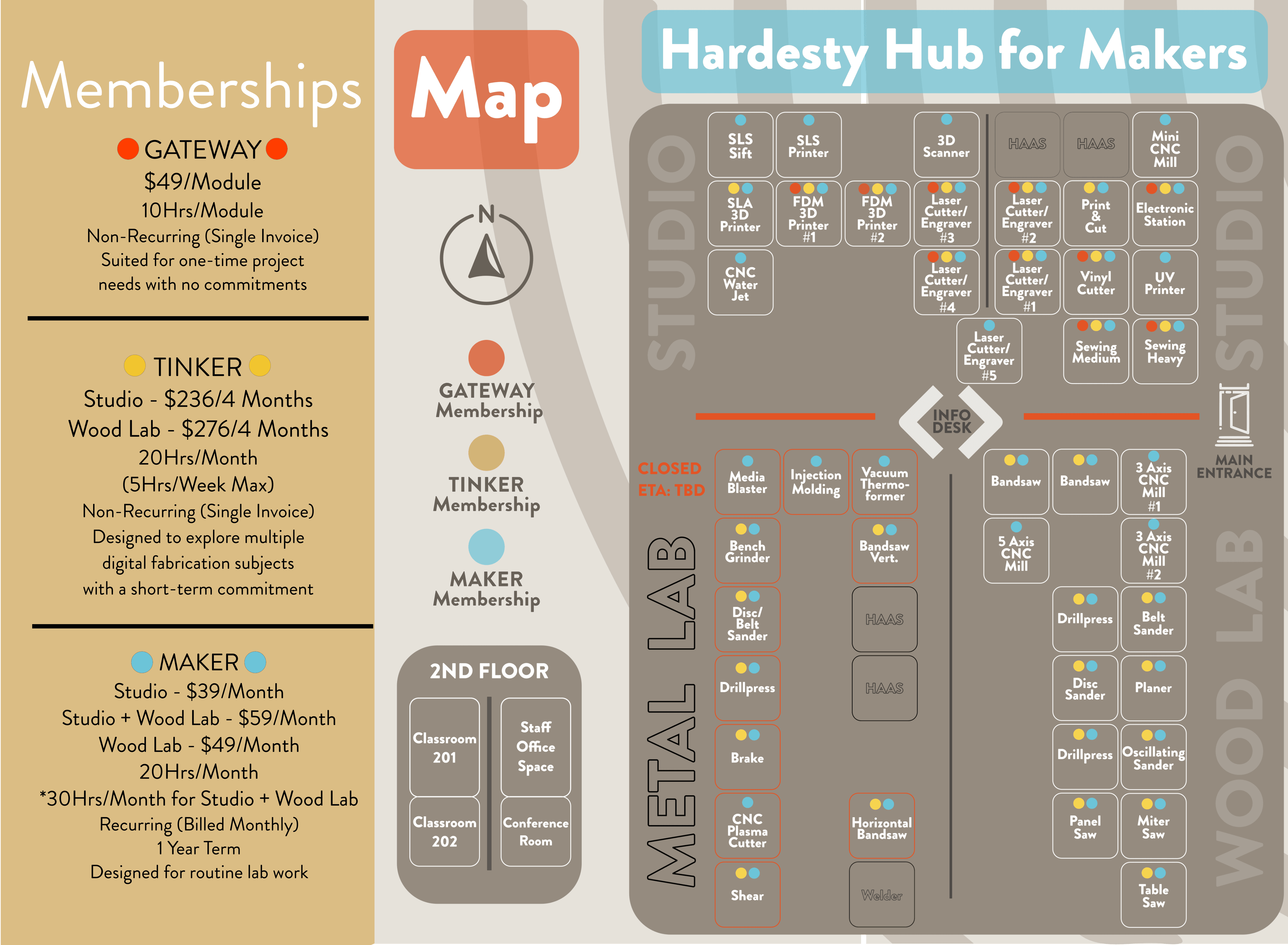 ---
Age & Access Limits
Membership plans may be purchased by adults 18 years old or older.  Children of adult members may accompany their parent/guardian while in the lab.  Additional age-limited access restrictions for children under 18 years old are described below:
| Age Range | Access |
| --- | --- |
| Adults (18+ years) | All Lab (Refer to Membership Plans for Specific Restrictions) |
| Children (14 years - 17 years) | Studio, Wood Lab & Metal Lab |
| Children (7 years - 13 years) | Studio Only |
| Children (under 7 years) | Special Lab Events Only |
---
Membership Sales
Membership plans may be purchased online through Fab Lab Tulsa's website.  Use the Member Portal menu to begin the sign up process. 
Payment Methods
Membership contracts may be purchased using credit/debit cards.  Cash and check payments are not accepted.
Membership Start Dates & Terms
Laboratory access, online machine appointment booking, and fabrication activities may begin once members attend / view prerequisite classes.  Membership contracts automatically expire at the end of their term.  Membership contract terms are as follows:  Maker plans 12 months, Tinker plans 4 months, and Gateway plans 30 days.
---
Fab Lab Tulsa, Inc. is a 501(c)(3) public charity qualified by the IRS to receive tax deductible contributions (EIN 30-0638130).  Memberships constitute charitable donations to Fab Lab Tulsa, Inc. and provide essential operating funds for Fab Lab Tulsa, Inc. and its non-profit mission.  Memberships may be deductible to the extent that they exceed the fair market value of any goods and services received subject to IRS rules and regulations.